Your Visit to the Writing Symposium 2016
On this page, you can find the conference schedule (including all speakers, presentations, workshops, meals, and coffee breaks), food plans and considerations, travel directions, a map of the TUM campus and the rooms where conference events will take place, and recommended hotels in the campus vicinity. If you have any questions about your visit to Munich or the conference itself, don't hesitate to send us an email. 
Conference schedule
We are excited to welcome a wide range of distinguished speakers to this year's Writing Symposium. Click here to view the conference schedule as a PDF.
Meals during the conference
The first evening of the conference, we'll enjoy an a la carte supper at the historic Löwenbräukeller restaurant and beer garden. Click here to see the menu.
We will also provide lunches on both conference days, and coffee and snacks throughout the Symposium. Please send us an email if you have any special dietary requirements or restrictions of which we should be aware!
Getting to the conference
The Writing Symposium will take place on the main campus of the Technische Universität München, near the city center of Munich. Click here for a PDF with directions from the central train station and other key points in the city.
Campus map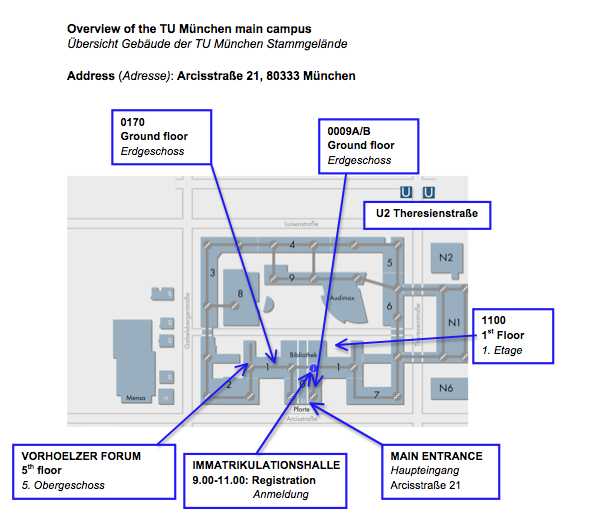 Recommended hotels
Here is a list of hotels conveniently located to the TUM campus. For more accommodation options, please visit hotels.com, Tripadvisor, or AirBnB. 
Hotel Bayers
Bayerstrasse 13, 80335 , Munich
Price: €107 - €121 per night (1 room, 2 adults)
~1 km from the symposium venue (15-minute walk)
Hotel website
KING's HOTEL First Class
Dachauer Strasse 13, 80335 Munich
Price: €104 - €106 per night (1 room, 2 adults)
~1 km from the symposium venue (11-minute walk)
Hotel website
Hotel Königswache - a SNR Hotel
Steinheilstrasse 7, 80333, Munich
Price: €127 - €128 per night (1 room, 2 adults)
~200 m from the symposium venue (2-minute walk)
Hotel website
Ibis München City
Dachauer Strasse 21, 80335, Munich
Price: €57 - €217 per night (1 room, 2 adults)
~1.1 km from the symposium venue (14-minute walk)
Hotel website
Hotel Königshof
Karlsplatz 25, 80335, Munich
Price: €290 - €319 per night (1 room, 2 adults)
~1 km from the symposium venue (13-minute walk)
Hotel website
Hotel Lex garni im Gartenhof
Briennerstrasse 48, 80333, Munich
Price: €102 - €107 per night (1 room, 2 adults)
~500 m from the symposium venue (7-minute walk)
Hotel website